Rafting on the South Fork American River
The South Fork of the American River is one of the most popular whitewater rafting runs in the United States. The 21 miles between Chili Bar Dam and Folsom Lake offers some of the best beginner to intermediate whitewater in California as well as world class scenery and easy access. Rafting the South Fork with a professional rafting outfitter such as Raft California is the perfect way to experience both the thrill of the rapids and serenity of the natural world within the river canyon. There are several sections for rafting, kayaking, SUP boarding, tubing and fishing. 
For on river fun, there are 3 different sections to enjoy:
Chili Bar Section
The upper most Chili Bar run begins about 1/4 mile below Chili Bar Dam and continues 6 miles downstream to Marshall Gold Discovery State Park. This section of river contains many great Class II and III rapids including Meatgrinder and Troublemaker.  There is also spectacular scenery, especially in the early spring when wildflowers cover the hillsides. It typically takes 1.5 hours to raft this section of the river.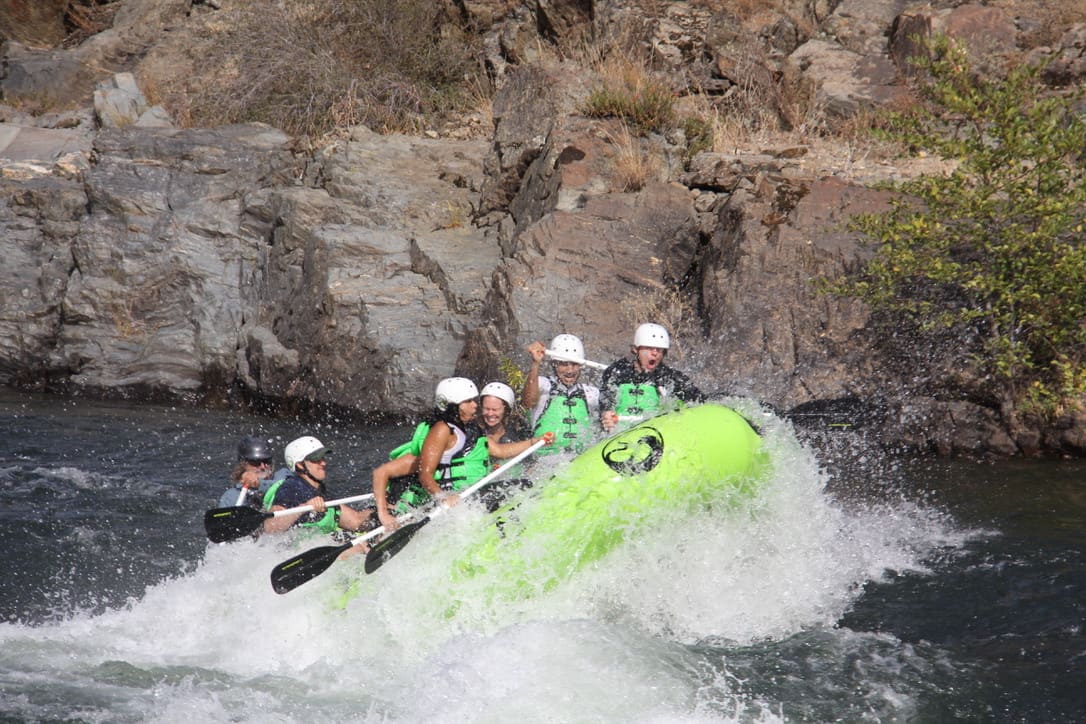 The Lotus Run Section
Continuing downstream from Marshall Gold Discovery State Park is 6 miles of river that flows through the towns of Coloma and Lotus. This section is very popular among beginner boaters and kids, offering many Class I-II rapids. The take-out for this section is Greenwood Creek River Access. A typical float on this section of river takes about 2 hours. 
Commercial outfitters usually take out at their own private camps, we offer a Class 2 kid friendly Lotus Run trip that is 4 miles starting at the Marshall Gold Park and ending at our camp. 
This section is also known as the Coloma to Greenwood run (C to G), or the Tom Sawyer Float.
The Lower Gorge 
From Greenwood River Access to the upper end of Folsom Lake at Salmon Falls the river tumbles through a beautiful bedrock canyon known as "The Gorge". This 9 mile section of river has numerous Class II-III rapids including Satan's Cesspool and Hospital Bar. This is the most popular section of river for beginner and intermediate whitewater rafters and kayakers. A trip through "The Gorge" usually lasts about 2.5 hours.
Combining all 3 of these sections is known as our Full River Rafting Trip and is a great day of outdoor adventure for intermediate or advanced whitewater enthusiasts. Rafting all 21 miles of the South Fork American River as it drops 490' in elevation is a full day adventure full of exciting rapids and wonderful scenery. The trip between Chili Bar Dam and Folsom Lake takes about 6 hours. 
The river can also be broken up into rafting for 2 days. One option includes camping at our established campground and rafting the lower Gorge on day 1, and the upper Chili Bar on day 2. Another option is to run the river top to bottom with more wilderness style camping along the river. 
Whichever section of the South Fork you choose to explore, remember life jackets are required. Professional outfitters such as Raft California provide state of the art gear, professional guides, and transportation for a safe and enjoyable day on the South Fork.